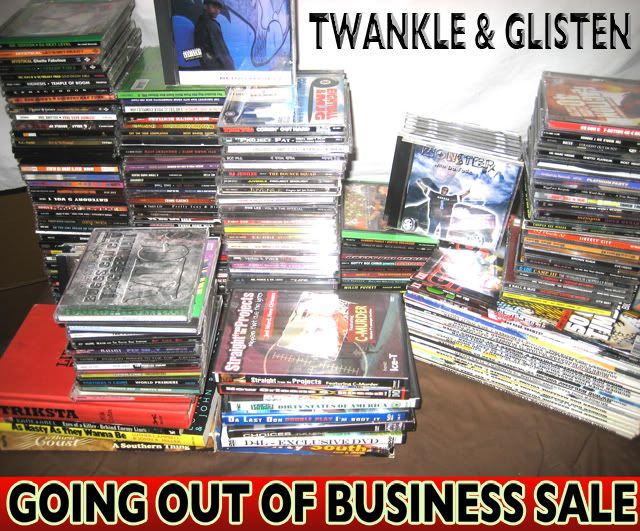 I'm writing today to announce that a huge portion of the Twankle & Glisten library is for sale. I'm keeping all my records and tapes, but everything else - CDs, DVDs, Books & Murderdogs are available for you to purchase. I'm offering this right now for the very very cheap price of $2 per item with the qualification that you have to buy the whole package. My motivation, more than anything else, is to diminish the size of this terrifying hoard and selling these item by item is not going to help much with that. With 190 pieces, that brings the total to $380 and though you'll need to pay for the shipping as well I'll make sure to get the cheapest "media mail" rate available (unless you're overseas, but we can work that out too). Check the list of materials here.

I've seen one single Tommy Wright III disc in this collection sell for 300 dollars, so its not difficult to see how much of a steal this is. The time spent acquiring this stuff from stores in Atlanta, Detroit, Ann Arbor, San Francisco, New York and all sorts of other places via the worldwide web is worth something else in itself, but I don't care to think about that too deeply! Even aside from the impracticality of selling this off piece by piece, I like the thought of it staying together even if under someone else's roof. Taken as a whole, this media mountain has a lot to say that hasn't been said.

The site is done for the most part as well, but its been that way for a while, more or less. I will probably restrict future posting to more non-stop cassette mixes. Its been fun (well, kind of) but I've got other things to focus on. When I started T&G I was looking for an outlet for all my creative energy that didn't have an outlet or wasn't sure enough of itself to see itself through. But a lot of things have changed and I'm much less interested in the job of In-Exile Southern Rap Internet Librarian now.

Any Twankle readers interested in this purchase can email me (jib.kidder at gmail.com) before I open up the auction to other venues.